Workshops run from 12NOON – 6PM unless otherwise stated.
NEW DATES ARE ALWAYS BEING ADDED!
Please check back if you don't see one that fits your schedule.
Please note that seats for each workshop are limited and can only be checked out one at a time. If you have concerns about availability for multiple seats to one date, please email before purchasing.
CLICK ON A DATE BELOW TO RESERVE YOUR SEAT!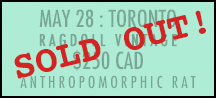 SUNDAY, MAY 28 : TORONTO
ANTHROPOMORPHIC RAT
RAGDOLL VINTAGE
372 College St
NOON – 6PM
---
PRIVATE LESSONS IN HAMILTON ARE AVAILABLE ON REQUEST
PLEASE SEND AN EMAIL ABOUT AVAILABILITY
If you would like to book a private lesson, please contact

---
WHAT SHOULD YOU BRING?
No special equipment or supplies are required of participants. Everything required will be provided.
Although the process is less messy than you might think, it's advisable to wear clothing you won't mind getting a bit dirty.
Feel free to bring props and accessories for your finished product.
Note that an adult rat is about the size of a Barbie doll, but with a more realistic waistline. Keep this in mind when choosing furniture or props.
---
SOME OF OUR PAST WORKSHOPS
OCTOBER 12, 2019 : ANTHROPOMORPHIC RAT : HAMILTON
SEPTEMBER 28, 2019 : ANTHROPOMORPHIC RAT : TORONTO
SEPTEMBER 21, 2019 : ANTHROPOMORPHIC RAT : HAMILTON
AUGUST 24, 2019 : ANTHROPOMORPHIC RAT : HAMILTON
JUNE 8, 2019 : JACKALOPE HEAD MOUNT : HAMILTON
MAY 18, 2019 : ANTHROPOMORPHIC RAT : TORONTO
MAY 11, 2019 : QUAIL : HAMILTON
APRIL 27, 2019 : ANTHROPOMORPHIC RAT : HAMILTON
APRIL 13, 2019 : SCORPIONS : HAMILTON
APRIL 13, 2019 : BEETLES : HAMILTON
APRIL 6, 2019 : ANTHROPOMORPHIC RAT : TORONTO
MARCH 23, 2019 : SCORPIONS : HAMILTON : THE COTTON FACTORY
MARCH 23, 2019 : BEETLES : HAMILTON : THE COTTON FACTORY
MARCH 16, 2019 : RAT : HAMILTON : THE COTTON FACTORY
FEBRUARY 09, 2019 : SCORPION : HAMILTON : THE COTTON FACTORY
FEBRUARY 09, 2019 : BUTTERFLY : HAMILTON : THE COTTON FACTORY
FEBRUARY 02, 2019 : RAT : TORONTO : PREHISTORIA /THE SKULL STORE
JANUARY 19, 2019 : RAT : HAMILTON : THE COTTON FACTORY
JANUARY 12, 2019 : PARAKEET : HAMILTON : THE COTTON FACTORY
DECEMBER 01, 2018 : TORONTO : PREHISTORIA / THE SKULL STORE
NOVEMBER 18, 2018 : HAMILTON : THE COTTON FACTORY
OCTOBER 20, 2018 : OTTAWA : GO TO DIVISION / N-PRODUCT
SEPTEMBER 22, 2018 : HAMILTON : THE COTTON FACTORY
AUGUST 25, 2018 : TORONTO : PREHISTORIA / THE SKULL STORE
AUGUST 19, 2018 : HAMILTON : THE COTTON FACTORY
JULY 28, 2018 : TORONTO : PREHISTORIA / THE SKULL STORE
JULY 22, 2018 : HAMILTON : THE COTTON FACTORY
JUNE 30, 2018 : TORONTO : PREHISTORIA / THE SKULL STORE
MAY 12, 2018 : TORONTO : PREHISTORIA / THE SKULL STORE
APRIL 14, 2018 : TORONTO : PREHISTORIA / THE SKULL STORE
MARCH 24, 2018 : TORONTO : COLLECTIVE STUDIO
FEBRUARY 24, 2018 : TORONTO : PREHISTORIA / THE SKULL STORE
JANUARY 21, 2018 : HAMILTON : DARLINGS OF THE DEAD, THE COTTON FACTORY
JANUARY 13, 2018 : TORONTO : COLLECTIVE STUDIO
DECEMBER 09, 2017 : LONDON : THE ARTS PROJECT
NOVEMBER 25, 2017 : HAMILTON : DARLINGS OF THE DEAD *JACKALOPE
NOVEMBER 18, 2017 : TORONTO : PREHISTORIA / THE SKULL STORE *JACKALOPE
OCTOBER 21, 2017 : TORONTO : COLLECTIVE STUDIO
SEPTEMBER 30, 2017 : HAMILTON : DARLINGS OF THE DEAD, THE COTTON FACTORY
SEPTEMBER 16, 2017 : TORONTO : COLLECTIVE STUDIO
JULY 29, 2017 : HAMILTON : DARLINGS OF THE DEAD, THE COTTON FACTORY
JULY 22, 2017 : TORONTO : COLLECTIVE STUDIO
APRIL 23, 2017 : TORONTO : PREHISTORIA / THE SKULL STORE
APRIL 22, 2017 : TORONTO : PREHISTORIA / THE SKULL STORE
APRIL 1, 2017 : LONDON : THE ARTS PROJECT
MARCH 26, 2017 : TORONTO : COLLECTIVE STUDIO
MARCH 25, 2017 : TORONTO : COLLECTIVE STUDIO
FEBRUARY 26, 2017 : TORONTO : COLLECTIVE STUDIO
JANUARY 22, 2017 : TORONTO : PREHISTORIA / THE SKULL STORE
JANUARY 21, 2017 : TORONTO : PREHISTORIA / THE SKULL STORE
DECEMBER 10, 2016 : TORONTO : RUE MORGUE
DECEMBER 3, 2016 : TORONTO : PREHISTORIA / THE SKULL STORE
NOVEMBER 27, 2016 : TORONTO
NOVEMBER 26, 2016 : TORONTO
NOVEMBER 13, 2016 : TORONTO
NOVEMBER 12, 2016 : TORONTO
OCTOBER 23, 2016 : TORONTO : PREHISTORIA / THE SKULL STORE
OCTOBER 22, 2016 : TORONTO : PREHISTORIA / THE SKULL STORE
OCTOBER 16, 2016 : TORONTO
OCTOBER 15, 2016 : TORONTO
SEPTEMBER 18, 2016 : TORONTO
SEPTEMBER 17, 2016 : TORONTO
MAY 29, 2016 : TORONTO : NANOPOD HYBRID STUDIOS
MAY 28, 2016 : TORONTO : NANOPOD HYBRID STUDIOS
APRIL 17, 2016 : TORONTO : NANOPOD HYBRID STUDIOS
APRIL 16, 2016 : TORONTO : NANOPOD HYBRID STUDIOS
FEBRUARY 21, 2016 : TORONTO : NANOPOD HYBRID STUDIOS
FEBRUARY 20, 2016 : TORONTO : NANOPOD HYBRID STUDIOS
FEBRUARY 6, 2016 : HAMILTON : SHINE
JANUARY 24, 2016 : TORONTO : NANOPOD HYBRID STUDIOS
JANUARY 23, 2016 : TORONTO : NANOPOD HYBRID STUDIOS
DECEMBER 13, 2015 : TORONTO : NANOPOD HYBRID STUDIOS
DECEMBER 12, 2015 : TORONTO : NANOPOD HYBRID STUDIOS
NOVEMBER 15, 2015 : TORONTO : NANOPOD HYBRID STUDIOS
NOVEMBER 14, 2015 : TORONTO : NANOPOD HYBRID STUDIOS
OCTOBER 10, 2015 : TORONTO : NANOPOD HYBRID STUDIOS
SEPTEMBER 27, 2015 : TORONTO : NANOPOD HYBRID STUDIOS
SEPTEMBER 26, 2015 : TORONTO : NANOPOD HYBRID STUDIOS
JULY 12, 2015 : TORONTO : NANOPOD HYBRID STUDIOS
JUNE 06, 2015 : HALIFAX : PLAN B / BSIDE GALLERY
MAY 30, 2015 : HAMILTON : SHINE
MAY 03, 2015 : TORONTO : NANOPOD HYBRID STUDIOS
APRIL 19, 2015 : TORONTO : NANOPOD HYBRID STUDIOS
APRIL 18, 2015 : TORONTO : NANOPOD HYBRID STUDIOS
MARCH 22, 2015 : HAMILTON : LITTLE RAY'S REPTILE ZOO
MARCH 08, 2015 : TORONTO : 8-11 ART SPACE
FEBRUARY 08, 2015 : TORONTO : 8-11 ART SPACE
JANUARY 11, 2015 : TORONTO : NANOPOD HYBRID STUDIOS
JANUARY 10, 2015 : TORONTO : NANOPOD HYBRID STUDIOS
DECEMBER 14, 2014 : TORONTO : 8-11 ART SPACE
DECEMBER 07, 2014 : TORONTO : 8-11 ART SPACE
NOVEMBER 30, 2014 : TORONTO : 8-11 ART SPACE