Workshops run from 12NOON – 6PM
SELECT A DATE BELOW TO RESERVE YOUR SEAT
Please note that seats for each workshop are limited and can only be checked out one at a time. If you have concerns about availability for multiple seats to one date, please email before purchasing.
---
TWO FOR $400 SPECIAL
at ALL UPCOMING TORONTO and HAMILTON workshops only.
Please email for details.
---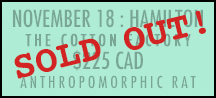 SUNDAY, NOVEMBER 18
NOON – 6PM
THE COTTON FACTORY
270 SHERMAN AVENUE NORTH : ROOM # 237
---
SATURDAY, DECEMBER 1
NOON – 6PM
PREHISTORIA / THE SKULL STORE
1193 WESTON ROAD
---
PRIVATE LESSONS IN HAMILTON ARE AVAILABLE ON REQUEST
PLEASE SEND AN EMAIL ABOUT AVAILABILITY
If you would like to book a private lesson, please contact
---
WHAT SHOULD YOU BRING?
No special equipment or supplies are required of participants. Everything required to create a taxidermic rat will be provided.
Although the process is less messy than you might think, it's advisable to wear closed-toed shoes and clothing you won't mind getting a bit dirty.
Feel free to bring props and accessories for your finished product.
---
PAST WORKSHOPS
OCTOBER 20, 2018 : OTTAWA : GO TO DIVISION / N-PRODUCT
SEPTEMBER 22, 2018 : HAMILTON : THE COTTON FACTORY
AUGUST 25, 2018 : TORONTO : PREHISTORIA / THE SKULL STORE
AUGUST 19, 2018 : HAMILTON : THE COTTON FACTORY
JULY 28, 2018 : TORONTO : PREHISTORIA / THE SKULL STORE
JULY 22, 2018 : HAMILTON : THE COTTON FACTORY
JUNE 30, 2018 : TORONTO : PREHISTORIA / THE SKULL STORE
MAY 12, 2018 : TORONTO : PREHISTORIA / THE SKULL STORE
APRIL 14, 2018 : TORONTO : PREHISTORIA / THE SKULL STORE
MARCH 24, 2018 : TORONTO : COLLECTIVE STUDIO
FEBRUARY 24, 2018 : TORONTO : PREHISTORIA / THE SKULL STORE
JANUARY 21, 2018 : HAMILTON : DARLINGS OF THE DEAD, THE COTTON FACTORY
JANUARY 13, 2018 : TORONTO : COLLECTIVE STUDIO
DECEMBER 09, 2017 : LONDON : THE ARTS PROJECT
NOVEMBER 25, 2017 : HAMILTON : DARLINGS OF THE DEAD *JACKALOPE
NOVEMBER 18, 2017 : TORONTO : PREHISTORIA / THE SKULL STORE *JACKALOPE
OCTOBER 21, 2017 : TORONTO : COLLECTIVE STUDIO
SEPTEMBER 30, 2017 : HAMILTON : DARLINGS OF THE DEAD, THE COTTON FACTORY
SEPTEMBER 16, 2017 : TORONTO : COLLECTIVE STUDIO
JULY 29, 2017 : HAMILTON : DARLINGS OF THE DEAD, THE COTTON FACTORY
JULY 22, 2017 : TORONTO : COLLECTIVE STUDIO
APRIL 23, 2017 : TORONTO : PREHISTORIA / THE SKULL STORE
APRIL 22, 2017 : TORONTO : PREHISTORIA / THE SKULL STORE
APRIL 1, 2017 : LONDON : THE ARTS PROJECT
MARCH 26, 2017 : TORONTO : COLLECTIVE STUDIO
MARCH 25, 2017 : TORONTO : COLLECTIVE STUDIO
FEBRUARY 26, 2017 : TORONTO : COLLECTIVE STUDIO
JANUARY 22, 2017 : TORONTO : PREHISTORIA / THE SKULL STORE
JANUARY 21, 2017 : TORONTO : PREHISTORIA / THE SKULL STORE
DECEMBER 10, 2016 : TORONTO : RUE MORGUE
DECEMBER 3, 2016 : TORONTO : PREHISTORIA / THE SKULL STORE
NOVEMBER 27, 2016 : TORONTO
NOVEMBER 26, 2016 : TORONTO
NOVEMBER 13, 2016 : TORONTO
NOVEMBER 12, 2016 : TORONTO
OCTOBER 23, 2016 : TORONTO : PREHISTORIA / THE SKULL STORE
OCTOBER 22, 2016 : TORONTO : PREHISTORIA / THE SKULL STORE
OCTOBER 16, 2016 : TORONTO
OCTOBER 15, 2016 : TORONTO
SEPTEMBER 18, 2016 : TORONTO
SEPTEMBER 17, 2016 : TORONTO
MAY 29, 2016 : TORONTO : NANOPOD HYBRID STUDIOS
MAY 28, 2016 : TORONTO : NANOPOD HYBRID STUDIOS
APRIL 17, 2016 : TORONTO : NANOPOD HYBRID STUDIOS
APRIL 16, 2016 : TORONTO : NANOPOD HYBRID STUDIOS
FEBRUARY 21, 2016 : TORONTO : NANOPOD HYBRID STUDIOS
FEBRUARY 20, 2016 : TORONTO : NANOPOD HYBRID STUDIOS
FEBRUARY 6, 2016 : HAMILTON : SHINE
JANUARY 24, 2016 : TORONTO : NANOPOD HYBRID STUDIOS
JANUARY 23, 2016 : TORONTO : NANOPOD HYBRID STUDIOS
DECEMBER 13, 2015 : TORONTO : NANOPOD HYBRID STUDIOS
DECEMBER 12, 2015 : TORONTO : NANOPOD HYBRID STUDIOS
NOVEMBER 15, 2015 : TORONTO : NANOPOD HYBRID STUDIOS
NOVEMBER 14, 2015 : TORONTO : NANOPOD HYBRID STUDIOS
OCTOBER 10, 2015 : TORONTO : NANOPOD HYBRID STUDIOS
SEPTEMBER 27, 2015 : TORONTO : NANOPOD HYBRID STUDIOS
SEPTEMBER 26, 2015 : TORONTO : NANOPOD HYBRID STUDIOS
JULY 12, 2015 : TORONTO : NANOPOD HYBRID STUDIOS
JUNE 06, 2015 : HALIFAX : PLAN B / BSIDE GALLERY
MAY 30, 2015 : HAMILTON : SHINE
MAY 03, 2015 : TORONTO : NANOPOD HYBRID STUDIOS
APRIL 19, 2015 : TORONTO : NANOPOD HYBRID STUDIOS
APRIL 18, 2015 : TORONTO : NANOPOD HYBRID STUDIOS
MARCH 22, 2015 : HAMILTON : LITTLE RAY'S REPTILE ZOO
MARCH 08, 2015 : TORONTO : 8-11 ART SPACE
FEBRUARY 08, 2015 : TORONTO : 8-11 ART SPACE
JANUARY 11, 2015 : TORONTO : NANOPOD HYBRID STUDIOS
JANUARY 10, 2015 : TORONTO : NANOPOD HYBRID STUDIOS
DECEMBER 14, 2014 : TORONTO : 8-11 ART SPACE
DECEMBER 07, 2014 : TORONTO : 8-11 ART SPACE
NOVEMBER 30, 2014 : TORONTO : 8-11 ART SPACE